2019 was the second most active buy/sell market since 2014 with 230+ completed transactions (see Chart I), an impressive accomplishment for a market that got off to a slow start.  In the first half of the year, transaction activity declined 9.6% and the publics' acquisition spending plummeted 59.3%.  Going into the second half of the year, the market did an about face. Transaction activity gained momentum in the third quarter and boomed in the fourth quarter (see Chart II), making 2019's second half one of the most active on record (see Chart III).  The buy/sell bulls overtook the bears resulting in a plethora of deal activity.
At the outset of 2019, buyers seemed weighed down by economic uncertainty, global trade disputes and 2018's stock market declines.  However, as the year progressed, buyers gained confidence in the resilience of the dealership business model, particularly as earnings growth resumed and interest rates subsided.  After three straight years of declines, 2019's average dealership profits reversed course  (see Chart IV), achieving the third highest earnings level on record, just 9.9% below 2015's peak.  This trend reversal, which started in April, gave buyers greater confidence in their expansion plans and earnings growth expectations, leading to improved transaction pricing.
The rebound in dealership earnings was driven primarily by auto retail's diversified business model, particularly the higher margin business segments, namely used vehicles and fixed operations.  In 2019, these two segments grew an impressive 2.5% and 4.4%, respectively.  As a result, the average dealership achieved a record $7 million in gross profit (see Chart V), despite a 1.1% decline in new vehicle gross profit, proving the resilience of dealership earnings during a period of declining SAAR.
"The diversification in our six core business lines [New, Used, F&I, Service, Parts, and Collision] creates resiliency in our revenue and profit streams."


Bryan DeBoer, President & CEO
Lithia Motors
Fourth Quarter 2019 Earnings Call
Buyers' renewed sense of optimism, coupled with rising dealership earnings resulted in a steady increase in blue sky values throughout the year (see Chart VI).  Higher blue sky values were also supported by lower interest rates which buyers leveraged to finance an increasing percentage of their acquisitions.  I believe buyers' access to low cost acquisition financing was a key driver of 2019's buy/sell market and will enhance 2020's activity levels if the financial markets remain strong.
As with the private market, the publics also saw an impressive rebound in their valuations throughout last year.  After declining 29.8% in the second half of 2018, The Kerrigan Index™ rose an impressive 42.9% in 2019, outperforming the S&P 500 by 48.6%.  Wall Street investors are clearly attracted to auto retail's countercyclical dynamics and the industry's ability to grow profits even as new vehicle sales contract. Investors also see tremendous opportunity for earnings growth with continued industry consolidation.
The public auto retailers' blue sky multiples are currently two turns above the average private dealer's blue sky multiple (see Chart VIII).  This valuation spread renders most acquisitions accretive to earnings and makes a growth through acquisition strategy highly profitable.  Armed with higher stock prices, the publics are expected to increase their acquisition spending in the first half of 2020.  With the completion of Asbury Automotive's $1 billion acquisition of Park Place Dealerships, the public auto retailers' collective spending on US acquisitions could reach record levels in 2020.
While private and public buyers remain bullish on the future of auto retail, a growing pool of dealers are deciding it's their time to exit.  Most of these dealers are concerned about the expected changes coming to the industry over the next decade.  These sellers are also concerned about threats to the franchise model with legislation potentially enabling direct OEM to consumer sales.  In addition, some dealers are worried about their ability to succeed as their competitors grow in scale (see Chart IX).  The threat of ever larger competitors capturing an increasing share of a metro or regional car market may make it more difficult to compete without significant size.
"There is a good supply of acquisitions in the U.S."


Earl Hesterberg, President & CEO
Group 1 Automotive
Fourth Quarter 2019 Earnings Call
I am also aware that some dealers are concerned about recession risk, recently heightened by COVID-19 and February's stock market volatility. While 2019 ended with strong consumer sentiment, low unemployment, and record stock prices, 2020 could prove more challenging as a result of the unexpected shock of a potentially global virus. At this juncture, this is a known unknown. Until we have more clarity, I continue to expect the buy/sell market to remain active and valuations strong. The fundamentals of the economy are sound, dealers are well capitalized, and consumers have access to credit. At this point, I do not see how the virus changes this.
Even if COVID-19 weakens car sales, if there is one thing I have learned about our industry, dealers can manage through any crisis and succeed. That is why dealerships are in such high demand! I do not see that changing as a result of a Coronavirus.
In the first quarter of 2018, dealership rents rose considerably on a quarter-over-quarter basis (see Chart 1). This increase is both a blessing and a curse for many dealers. It's a blessing because rising rents reflect rising property values, and a curse because rising rents mean higher fixed expenses and lower earnings.
Rising rents are primarily a result of rising commercial real estate values, predominately driven up by a decade of broad credit availability and attractive mortgage terms. As real estate values inflate, dealers who own their real estate have seen their enterprise value increase despite lower industry profits (see Chart II).  According to Kerrigan Advisors' research, on average, dealership real estate prices have more than offset the slight declines in average blue sky values over the last 18 months.
While increasing real estate values are a tremendous blessing for dealers and their families, particularly if they are considering a sale in the near term, they are often a curse for dealers who are staying the course or are looking to expand their group.  Rising rents, a fixed rather than variable expense, reduce earnings and add risk to the auto retail business model.   The fixed nature of rent also hampers a dealer's ability to manage through economic cycles.  During the Great Recession, high rent expense caused the downfall of many dealers.
In the first quarter of 2018, average dealership rent hit a level not seen since the recession, rising to $959 per new vehicle retailed (see Chart III).  These rent factors are an alarming trend, particularly given the recent decline in new vehicle gross profits.
In addition to rising real estate values, rising rents can be attributed to OEM demands for new image facilities and expensive remodels.  This is particularly true with luxury franchises whose rent per new vehicle retailed averaged a stunning $1,808 in the first quarter of 2018, almost double the industry average.
Luxury franchises' rent to gross is currently 13.2%, 28% higher than domestic franchises despite luxury's significantly higher dealership gross profit (see Chart IV).  I attribute this high level to the incredible demands for expensive facilities by most luxury OEMs.  These demands not only seem tone deaf with current retail trends against brick and motor investing, but also economically extravagant and financially irresponsible.
In today's market, image requirements are increasingly pushing dealers to sell their franchises.  These dealers are unwilling to invest the capital required to become facility compliant and would rather "cash out" than "lever up" on real estate.  Unfortunately for dealership sellers, blue sky discounts for major image construction projects are on the rise in 2018's buy/sell market.  Buyers are increasingly wary of high rent factors and the risks associated with immovable expense structures and operational disruptions from major construction projects.
"The new car model is completely broken right now because of the expectations of what these manufacturers have out there in the cost of these facilities. It doesn't pencil, the model doesn't work and something's got to budge.  And right now that's, in my opinion, devaluing some of these franchises." 

Scott Smith, Chairman and Chief Executive Officer
Sonic Automotive
First Quarter's Earnings Call
As interest rates and concomitantly cap rates (see Chart V) continue to rise, image requirements will become an even more divisive issue in dealership transactions and OEM relations.
Over the last ten years, healthy credit markets and low interest rates have enabled OEM demands for increased real estate spending.  With a changing credit landscape, image facilities will become more difficult to justify, particularly as online sales grow.  If OEM facility demands continue at their current pace, I expect dealers' rallying cries against facility requirements could reach deafening levels. Let's hope economically rational heads begin to prevail to avoid such a conflict!
The dealership seller's market remains incredibly robust. Despite our industry's slowing growth rate (1% increase in sales year over year in June 2014), dealership profits remain high and buyers are willing to pay big blue sky multiples on high profits. This is mostly due to the fact that buyers are anxious to deploy their capital and have remarkable access to financing (by way of example, most of Lithia's DCH acquisition will be financed with debt).
Deal flow is often a buyer's only limitation. Simply put, there are more buyers with capital then there are sellers looking for capital. This is a recipe for a once in a lifetime seller's market, particularly for older dealers. Except for the period in the late 90s when the publics first launched, our industry has never seen such a strong seller's market.
Historically, the dealership buy/sell market favored buyers, not sellers. Our industry's structural barriers to entry (manufacturer approval combined with large capital requirements) limited the size of our buyer pool. You had to be a dealer to buy a dealership. Recently, a new set of buyers, private equity firms and family offices, have tried to enter the market, but have yet to make a significant impact and have not demonstrably augmented the number of buyers in the market.
The reality is that our dealer buyer pool is not growing, it's ageing. Bryan DeBoer, CEO of Lithia, noted on the company's recent analyst conference call discussing the DCH acquisition: "We believe the theme of an ageing dealer body with the need to extract capital from their life's work is accelerating and is represented in this transaction [DCH] and the other seven acquisitions we have completed this year." He goes on to say, "It is estimated that 3/4s of the dealerships in the United States are single stores owned by one family with the dealer principal between 65 and 75 years old. In short, the consolidation will likely continue." Mr. DeBoer is not mincing words here – Lithia's growth strategy is to capitalize on dealer demographics and the eventual buyer's market it will create.
Like Mr. DeBoer, I'm starting to see an acceleration of sellers coming to market due to age. Some of our older clients want to make sure they capitalize on the benefits of today's seller's market while it lasts. Many of them realize that a seller's market provides distinct benefits that are not available in a more "normal'" buy/sell market.
In my view, the most important benefit of a seller's market is competition. When there are more buyers than sellers, it's a competitive deal market and sellers can and should control the buy/sell process.
Below are the four key benefits to sellers of a competitive dealership sale process:
Higher Prices: In a seller's market, competition tends to drive up price. Like a competitive used car auction, transaction competition increases the market clearing price. In fact, in a seller's market like today, buyers will reach even higher to win a deal when they know there is competition. Also, sellers can be assured that the price they received for their business was in fact the market clearing price because they know there was competition for the sale. Without competition, sellers are never quite sure if they maximized their business' value when they sold.
Time Efficient: In a competitive process, buyers know they must perform or they will lose the deal. As such, bidders tend to move more quickly, writing their letter intent within a few weeks and expediting the signing of the asset purchase agreement, shortly after signing the LOI. Buyers who are part of a competitive process know that if they do not perform, another buyer will step into their shoes, perhaps with a higher offer. This pressure keeps buyers on their toes and ensures that the sale process is efficient. I'm a big believer in the theory that "time kills deals". Competition reduces the time it takes to sell a dealership and increases the odds of a successful sale. In my experience, without competition, buyers take their time and often drag out the process to their benefit.
Greater Seller Control: This may be the most important benefit and the single biggest reason a seller should not simply engage in a one-on-one dialogue with a single buyer (in effect transferring all of their seller control to the buyer, even though it's a seller's market!). Transaction competition allows a seller to exert a great deal more control over the sale process. When the inevitable deal issues arise, the seller can continue to drive their key deal points because the buyer is aware there are other interested parties. Alternatively, when a seller works with only one buyer, as the deal progresses the buyer can exert more control and in some cases force the seller to agree to reduced deal terms. There is no prudent reason in today's seller's market to transfer a seller's control position to a buyer. When a seller negotiates with just one party, the buyer knows he/she has a favorable position and tends to exert greater control of the sale process.
Contingency: If a buyer is not performing, a seller can usually terminate a letter of intent or asset purchase agreement and revert to a back-up offer. If a competitive process was not run, no such back up offer exists. The seller would need to restart the sale process and likely expose the dealership to business disruption and value destruction. Also, when the chosen buyer knows the seller has a contingency buyer, he/she is much less likely to re-trade on price at closing. Competition is a good insurance policy to ensure your sale gets done at the agreed upon price.
In closing, dealership sellers are in a unique position to drive the sale process today. Sellers' pricing power is driven by today's competitive deal market. This market will not last forever. Until it ends, I recommend that sellers take advantage of it. Competition creates good buyer behavior and high prices.
Dealership buy/sell activity increased 60% in the first quarter of the year (see Chart 1). The increase is attributed to a rise in the number of sellers entering the market. Buyers, both public and private, have reported an increase in the number of acquisition opportunities being brought to them. Interestingly, the rise in sellers has yet to have a negative impact on blue sky pricing, which remains very high.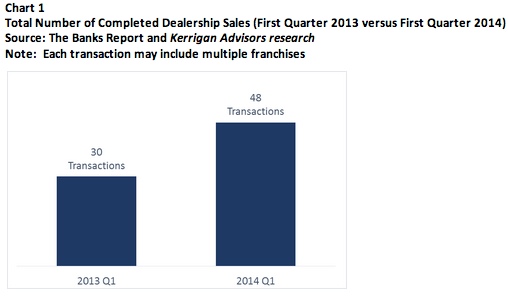 Public Acquisition Activity Q1 2014
The publics' increased their spending on dealership acquisitions in the first quarter of 2014 as compared to 2013, growing their total U.S. and international acquisition spending by 40%. However, their spending on U.S. dealerships increased by just $8 million in the first quarter, a meager 9% improvement over the first quarter of 2013. The $96 million spent on U.S. acquisitions in the first quarter was for just eight dealerships. This spending level is still much lower than pre-recession levels. In fact, the publics have even sold a few dealerships over the last 12 months. International spending continues to garner a significant share of the publics' acquisition capital, 22% in the first quarter.

I continue to be surprised by the lower than expected acquisition activity by the publics, particularly given their record access to capital for acquisitions (see Chart 3). As you can see in Charts 4 and 5, in the first quarter of 2014 the publics reduced their capital allocation to dealership acquisitions and significantly increased their allocation to stock buybacks. Collectively, the public spent $163 million on stock buybacks in the first quarter, 70% more than what they spent on U.S. dealership acquisitions. For example, AutoNation, the largest of the publics, acquired $116 million of its own stock in the first quarter and made no acquisitions. In effect, AutoNation chose to invest in their own dealerships, rather buying new ones.
The increase in public stock buybacks may reflect a recent decline in the P/E multiples of these stocks. The publics' average P/E multiple has declined from a high of 22.2 in January 2010 to 16.1 in January 2014 to 15.1 in March 2014. At a lower multiple of earnings, the publics' stock becomes an increasingly attractive investment, particularly if there are few dealerships available for purchase that meet their framework agreement requirements or that are accretive to their earnings.
Private Dealership Acquisition Activity Q1 2014
As compared to the publics, private dealership groups continue to be the most acquisitive. According to The Banks Report and our research, there were 48 dealership acquisitions in the first quarter of 2014. Private dealership groups made 40 acquisitions, representing 83% of the buyers, up from 78% in 2013.
The dominance of the private acquirers is reflected in the increasing number of private dealership groups with greater than $1 billion in sales, rising from just 11 in 2009 to 36 in 2013, a 227% increase (see Chart 7). The majority of these companies' revenue growth has come from acquisitions, not same store sales.
I expect private buyers to be the driving force of future dealership consolidation for three main reasons, listed below.
Private Dealership Groups Have Tremendous Access to Capital: The dramatic recovery in the dealer credit profile has put private buyers on a much more even playing field with their public counterparts in terms of access to capital at competitive rates. Lenders have decided that our industry's financial performance warrants more credit and banks are eager to grow their dealer loan portfolio. As such, banks are willing to lend to private dealers on acquisitions, including blue sky and real estate, with the expectation that these buyers will increase their floor plan credit and retail paper volume – a big bonus for most banks.
Private Dealership Groups Have Fewer Investment Options: Many private buyers have maxed out on their CMA accounts and are sitting on a great deal of cash, generated from their highly profitable dealerships. Few are interested in handing that capital over to a professional money manager to invest in a diversified pool of investments. Rather most private dealers subscribe to Warren Buffet's investment philosophy, "Diversification is for those who don't know what they are doing." Successful private dealers know exactly what they are doing. They know how to achieve a great return on a dealership investment and therefore are most focused on allocating their excess capital to acquiring more stores. Also, unlike public companies, private groups do not need to buy back their own stock (they already own 100% of it in most cases) and few are seeking international acquisitions – buying a dealership out of state can be challenging enough.
Public Companies Have Growth Limitations: Public companies have a fiduciary responsibility to allocate their free cash flow toward investments that are earnings accretive and produce a high return on investment. If they cannot identify such investment opportunities, the companies may feel pressure to increase their dividend and provide their shareholders with the cash. As blue sky multiples continue to rise, some publics may find themselves having a difficult time justifying acquisition valuations. As Chart 8 demonstrates, it is estimated that the average public company blue sky multiple has declined to 8.3 times (similar declines were mentioned above in the P/E multiple). This decline is due to the fact that earnings have grown faster than their market capitalizations, which is likely an indication that investors believe earnings growth will slow. While 8.3 times may seem like a high blue sky multiple, this multiple limits the publics' ability to make accretive acquisitions, particularly when factoring in transaction expenses and transition costs. The public' boards ask themselves, should we make this acquisition or just buy back our own stock at an 8.3 times blue sky multiple with no transition expense or risk. Clearly, some of them have chosen the latter option. Another limitation for public companies is their manufacturer framework agreements which limit their ability to grow, particularly with certain franchises and in certain markets.

In closing, I am always surprised how focused many private dealers are on the publics. Dealers often assume a public is the most likely acquirer of their stores. And yet, the public companies own just 5% of the 17,875 dealerships in the US. 95% of dealerships are still owned by private companies. While the publics' generally have greater access to capital, they also have more options for that capital and more manufacturer limitations on their acquisition strategy. As such, they are less active in the buy/sell market and less likely to be the buyer of your dealerships. Of course, if a new public emerges, that would be a different story. To be clear, that is a big "if". Until then, I expect we will continue to see private groups lead dealership consolidation.
Buy/sell activity in the first half of 2014 rose 75%, with private acquirers once again leading the industry. The strength of auto retail sales, particularly in the luxury segment, continues to support strong buy/sell activity and high blue sky prices. Below are the four notable trends I saw in the second quarter.
1. High Demand Markets Create Big Blue Sky Premiums:
Buyers are willing to pay steep premiums to acquire franchises in certain high demand markets. States with the highest sales per dealership are often in the greatest demand (see Chart 1). Arizona, California, Florida, Texas, Colorado, and Nevada are amongst the most sought after markets, according to our database. By contrast, the Midwestern states are the least sought after markets, due to slower population growth and sales seasonality.

For certain franchises, location can have a meaningful impact on franchise value. Domestic blue sky values are most affected by location and market, as Chart 2 demonstrates. For example, domestic franchises in high demand markets can achieve the same blue sky values as Honda or Toyota franchises in the same market.
2. An Increase in Large Transactions is Expected in the Near Term, Questionable in the Long Term:
In addition to the increase in the number of multi-dealership acquisitions (Chart 3) and the announcement of the Lithia/DCH transaction, I'm aware of a number of sizable acquisitions which are in process and likely to be announced in the second half of 2014. Many large private groups, public companies, and private equity firms are eager to buy sizable groups. More of these groups are becoming available due to the ageing of the dealer body and today's high blue sky values.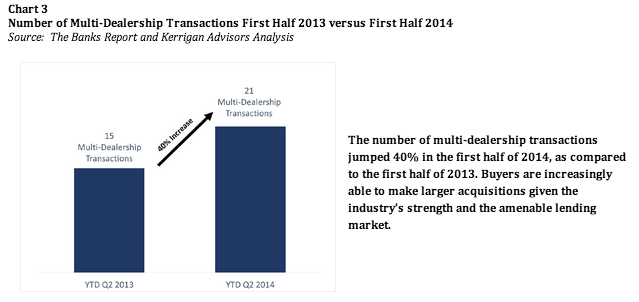 4. Many Indicators Point to Blue Sky Pricing Approaching Peak Levels:
The SAAR topped 17 million units in August, the highest level since July 2006, and total sales are up 5% for the year. Auto sales growth far exceeded many analyst's expectations coming out of the recession. Unfortunately, many of these same analysts are now predicting slower auto sales growth for a number of reasons including: (i) the expected rise in interest rates, (ii) negative auto equity as a result of extended loan terms, (iii) student loan debt limiting car purchases; and (iv) improvements in car quality/longevity.
A Morgan Stanley industry report recently noted, "The U.S. auto cycle has clearly moved from a 'need to buy,' to an 'I just want to buy' type of consumer mindset. There is a dark side to all this." I believe this dark side will put pressure on future dealership blue sky values. The timing of a sales decline could coincide directly with an increase in sellers coming to market due to age, putting further pressure on blue sky prices.
Our firm believes that the closer we get to a 17 million sales year, the closer we come to peak blue sky values. Dealers in their late 60s and 70s will not likely witness a better selling environment in their lifetime. One thing is for certain: the trends in this article will change and a buyer's market will eventually set in. When it comes to the value of your business, timing is everything.
Today's buy/sell market is robust and dealership values are very strong. This chart is based on the Kerrigan Advisors franchise values in the current buy/sell market. Each franchise in the chart is designated with a high, average and low multiple. I am often asked what causes franchise multiple variability? Most dealers understand the average performance multiple, which is associated with an average performing franchise. But they often ask what would cause a dealership to be valued in the high range, versus the low range.
There are four key factors that drive the variability of blue sky multiples. In this article, I am going to cover two of the four: (i) earnings growth expectations and (ii) buyer demand. In next month's article, I will cover the remaining two: (iii) real estate and (iv) market vehicle preference. The combination of these four factors plays a major role in the blue sky multiple a buyer is ultimately willing to pay. Together, they determine whether a dealership will trade for a high or low multiple. Below is a review of the first two factors, including some examples.
FACTOR ONE: EARNINGS GROWTH EXPECTATIONS
1. Higher Growth = Higher Multiple:
Underperforming dealerships provide an opportunity for higher earnings growth. A dealership that is underperforming, meaning its profitability and/or sales are below market expectations, often commands a higher blue sky multiple. Why? Because buyers believe they can grow profits at an above average rate by reducing expenses, increasing gross profit or growing sales. Simply by "fixing" the underperformance, buyers should experience a higher level of earnings growth than they normally would with that particular franchise. For example, I recently represented two underperforming dealerships that commanded very high multiples (even higher than the multiples in our chart). The profitability of both of these stores was far below market. The buyers felt that they could achieve outsized earnings growth within a year and accordingly priced the blue sky at a multiple far above average.
Dealerships in high growth markets have higher earnings growth expectations.Dealerships that are located in high growth markets, meaning markets that are growing their economy and population faster than the national average, often command a higher blue sky multiple. Buyers are willing to pay a higher multiple because they know that their sales and thus their earnings will grow at a faster pace than what they would achieve in an average market. By way of example, Texas, Arizona and Florida are high growth markets where dealerships often command premium multiples.
2. Lower Growth = Lower Multiple:
Over-performing dealerships can experience below average earnings growth post sale. Ironically, a dealership that is over-performing, meaning its profitability and/or sales are above market expectations, often commands a lower blue sky multiple. This usually surprises sellers, as they believe their over-performing store should command a higher blue sky multiple. The reason over-performing stores receive lower multiples is because the buyer does not expect earnings to grow at an above average pace post transaction; in fact, they often believe earnings could decline after the sale. As a result, buyers are often unwilling to pay a high or average multiple for an over-performing franchise.
Dealerships in slow growth markets can expect slower earnings growth. Dealerships located in low growth markets, meaning markets that are growing their economy or population slower than the national average, often command a low blue sky multiple.
FACTOR TWO: BUYER DEMAND
1. Higher Demand = Higher Multiple
Dealerships located in major metro markets are in high demand. Today, there is more demand than supply of dealerships for sale in major metro markets. Large, well-funded buyers are seeking dealerships in these markets where they often already have a presence. As a result, there is a great deal of competition for major metro stores. High buyer demand, with limited seller supply, drives up price (Economics 101). Thus, dealerships in higher demand markets command higher blue sky multiples.
Dealerships in the Sunbelt are in high demand. Most of the largest, well-funded private and public dealership consolidators are focused on the Sunbelt states. Dealerships in these states can expect a higher multiple.
2. Lower Demand = Lower Multiples
Dealerships located in rural markets have fewer buyers. There are fewer buyers seeking dealerships in smaller/rural markets. Less demand means less competition and lower blue sky multiples. In addition, buyers seeking dealerships in smaller markets often have less capital, which can result in lower blue sky multiples.
Dealerships located outside the Sunbelt are in lower demand. As stated above, the largest dealership consolidators are expanding primarily in the Sunbelt states. Because there is less demand for dealerships located in areas outside the Sunbelt, dealerships located in these markets can receive lower blue sky multiples.
Sometimes all of these valuation factors can counter-balance one another. For instance, you may have an underperforming dealership located in a low-demand market or an over-performing dealership located in a high-demand market. In both cases, those stores could command an average franchise multiple. Next month, I will discuss the other two factors (real estate and market vehicle preference), which further affect the multiples a buyer is willing to pay.
Remember, valuing dealerships is much more of an art than a science. Ultimately, a dealership is only worth what a buyer can and will pay, and what a seller can and will accept, in other words the market-clearing price.
This year's NADA was a great success! Reflecting on the 2014 convention, I could not help but think how far our industry has come since 2009, the last time NADA was in New Orleans. Back then, Lehman Brothers had just failed and General Motors and Chrysler were on the brink of bankruptcy. My 2009 NADA workshop was titled, The Credit Crisis. By contrast, 2014's workshop was titled, Buy/Sell Do's and Don'ts in Today's Market. The dealers in this year's audience were in major deal mode. Optimism was everywhere!
I think Penny Pritzker, US Secretary of Commerce, perfectly summed up the industry's accomplishments since 2009. She stated, "The automotive sector and its record over the past few years is resilience defined. Out of crisis, a phoenix has arisen. The auto industry's ability to reinvent itself is one of the most remarkable stories I've seen in my 27 years in business."
There is no doubt that dealership profits are part of the rising phoenix to which Ms. Pritzker referred. Average dealership pre-tax earnings have more than tripled since 2008 (see Chart I). Dealerships on average are earning over $900,000, 74% more than what they earned when our industry was selling 16.9 million new cars in 2005. In fact, the average dealer is at peak earnings. Now that is what I call reinvention!
It is not surprising that we have seen dealership earnings rise at such a strong pace. Most dealers slashed costs to survive the recession. Overhead was reduced to the bare bones, creating very lean, efficient businesses. When car sales came roaring back, more dollars dropped to the bottom line. For instance, average dealership revenue grew at 17% in 2010, while earnings grew at a remarkable 60% in the same year (three times more than revenue!).
Of course, this kind of rapid growth was bound to slow at some point. As great as this earnings phoenix has been, if you look closely at the slope of the earnings growth curve, you can see that the rate of growth is starting to decline. The earnings phoenix is starting to coast. In fact, Chart II shows that dealership earnings have gone from a 60% growth rate in 2010 to just a 7% growth rate in 2013. Many dealers recently shared with me that their earnings were flat in 2013. Interestingly, earnings growth was slower than sales growth in 2013, the reverse of what we experienced coming out of the recession.
The decline in earnings growth is actually not that surprising when you look at the growth in new car sales. As you can see on Chart III, the growth in car sales also started to slow in 2013 and is expected to normalize in the 2% range within the next few years. As the industry grows at a slower pace and our rebound matures, competition for car sales will continue to heat up. To achieve higher sales goals, manufacturers and dealers will need to take share from one another.
This kind of competition will negatively impact pricing and gross profits. We are already beginning to see its effect. As you can see on Chart IV, the public companies' average new car gross profit per vehicle is at a 7-year low. It is down 12% since 2011. Unfortunately, it is not just the public's feeling pricing pressure, NADA reported a 7% decline in average new car gross profit per vehicle in 2013. This margin pressure will continue to have a negative impact on dealership earnings.
Additionally, certain costs, which were slashed during the recession, have crept back in, including increased payroll expenses. According to the most recent data from NADA, new-car dealerships had an annual average payroll of $2.9 million in 2012, up 12% from 2011. As old costs come back and new costs (Obamacare) enter the picture, this too will put pressure on earnings. (NOTE: We hope that increased units in operation (UIO) per dealership will help boost the high margin service business; however, we expect the decline in service visits per customer will offset higher UIOs).
So, what does all of this mean for blue sky values and buy/sell activity? Thus far, I have not seen an adverse effect in my buy/sell advisory work. The theme for this year's NADA was "Accelerate". Dealership buy/sell activity is certainly accelerating. Buyers have access to a tremendous amount of capital and dealership values are high because earnings and blue sky multiples are high. But don't forget that a blue sky multiple is a reflection of a dealership's earnings growth potential. If earnings growth decelerates, blue sky values and buy/sell activity typically down shift. Until then, I suggest you enjoy the benefits of the earnings phoenix, whether you are a buyer or a seller. As we heard in New Orleans, now is the time to accelerate!
If you are attending the NADA Convention in Orlando this month, I recommend you do two things during your visit. First, I hope you attend my workshop on "Key trends in buy/sells." If you are a reader of my articles, I think you will find the workshop very informative (last year's ranked number one by NADA attendees). This year's workshop will discuss today's buy/sell activity, the franchises in highest demand by buyers, current blue sky multiples and the effect of the aging dealer body on future buy/sell activity. I will also discuss the current financial markets and their impact on dealership values.
This leads me to my second recommendation for the convention: spend time with lenders. This recommendation is driven by the fact that business lending has finally returned and capital is once again flowing to our industry. These lending relationships are critical to your business, particularly if you are planning to acquire dealerships. Financing can make or break a buy/sell.
As most of us know, buy/sell activity (except for workouts) nearly came to a standstill during the depths of the recession. This was in large part due to severe weakness in the credit markets. The credit crisis not only truncated car sales, it halted dealership sales. Even well capitalized dealers faced never-before-seen roadblocks when trying to obtain floor plan for an acquisition. The financial markets determined that dealerships were too risky. At that time, most lending institutions focused on reducing auto retail exposure, not increasing it.
How the world has changed! The financial community has re-discovered what many dealers never forgot. Auto retail is a highly attractive, generally recession-proof industry, that provides dealers with a strong investment return and lenders with a profitable, low default loan source. Even during the recession, the average dealership remained profitable and has since come roaring back. According to NADA, the average dealership has seen its pre-tax profits rise 35% annually since 2008 (see Chart 1), a remarkable comeback and one that exceeds even pre-recession performance.
As a result of this robust rebound, investor interest in our industry is high. As an example, the public auto retailers have raised $7 billion dollars in bond offerings and lines of credit since May 2010 (see Chart 2). Another example of the industry's renewed capital availability is the securitization market for both auto loans and floorplan. These securitizations are approaching pre-recession levels and are being priced at record lows. In this low yield investment environment, even companies like Google have parked their cash in securitized pools of AAA rated auto loans. Banks and captives are taking advantage of this low cost capital source and are prepared to put their capital to work for dealers.
This increased capital availability combined with a very low cost of capital and a very healthy dealership business are having a dual effect on our industry: more banks are entering the market and there is renewed competition for dealership business. This competition is greatly improving dealership lending terms, driving banks to increase their financing levels on real estate and blue sky, and putting increased pressure on rates. Dealers are reporting significant reductions in their floorplan rates. I have also spoken to several banks who indicated their willingness to lend 50% or more on blue sky at rates as low as 5%. Similarly, I recently heard of a captive who financed nearly 100% of blue sky for a buyer.
Dealers should understand that most industries do not have the luxury of such low-cost acquisition financing. The auto retail industry is unique in this regard. Why is this? It is largely due to the fact that most lenders link acquisition financing with floorplan and real estate. When pricing an acquisition loan, lenders consider their overall return from the dealership/dealer relationship, not just the blue sky financing. As such, to some degree, the blue sky financing is subsidized by the floorplan line, resulting in below market acquisition financing.
What does all of this mean for dealership buyers and sellers? For buyers, it means that you may be able to pay more for a dealership if you can finance a significant portion of the acquisition at currently low interest rates. With less equity in a transaction and low financing rates, your return on equity will likely be very high, even if you pay a strong blue sky multiple. Consider Chart 3, which shows the amplification of equity returns when leverage is deployed. For sellers, it means your timing is good. As we learned during the recession, the credit markets are a key player in buy/sells. Today they are more than cooperating.
So, when you are choosing which party to attend at NADA this year, I strongly suggest including the lenders on your list. These relationships are very important and can have a meaningful economic effect on your business today and your ability to grow your business in the future. In my experience, the more you have the better. I hope to see you in Orlando!

As the year comes to a close, 2012's buy/sell activity surprised me. I had expected a large number of dealerships to trade hands this year, particularly given the aging demographic of the dealer community and the rise in blue sky values. Instead, fewer transactions closed, particularly large transactions.
By way of example, at the 2012 National Association of Minority Automobile Dealers (NAMAD) Conference, the Ford representative commented that less than 2% of Ford's franchises were expected to trade hands in 2012. At that rate, it would take 50 years for the current generation of Ford dealers to sell their franchises to the next generation. This is quite remarkable given Ford's current financial strength and the commensurate increase in its dealerships' values.
I believe the 2012 decline in buy/sell activity was driven primarily by price. Buyers and sellers simply did not see eye to eye. Sellers were enjoying record profits and expected premium prices to sell, while buyers still demanded a minimum 15% return on their acquisition investment and were unwilling to reach for blue sky. The result: deals did not get done.
As a reminder, a dealership is only worth what a buyer can and will pay and what a seller can and will accept at any given point in time. Both buyer and seller need to agree on price for an exchange to occur. If no exchange takes place, no one knows where value lies.
Reflecting on 2012, clearly many buyers believed sellers' pricing expectations were irrational. But were they? Given today's low yield investment environment, maybe sellers were incredibly rational.
Many sellers asked themselves, if I sell my dealership today, where can I invest my sales proceeds and what will those investments earn? They compared their current dealership cash flow to what they could earn on their capital in the market. The difference was so extreme to the negative that many sellers decided a sale was simply not in their best interest. Only for a premium price would a seller agree to part with his dealership cash flow. This line of thinking was in fact quite rational.
Today, Presidio estimates the average return on investment for a dealership acquisition is between 12.5% and 25% (see Chart 1). This estimate, based on Presidio's most recently published blue sky multiples, assumes no leverage and excludes real estate. With leverage (which is increasingly available at attractive terms), dealership acquisition returns could jump to more than 40%.
I should note that the return estimates in Chart 1 assume the buyer sees no growth in dealership cash flow after the acquisition. If a buyer increases dealership profitability post-acquisition (a relatively conservative assumption), the rate of return on these investments significantly increases.
In stark contrast to expected dealership acquisition returns, the rates of return available in today's investment marketplace are very low (see Chart 2). A dealership acquisition looks particularly attractive when you considering the risk removed from the auto retail industry as a result of the credit markets' recovery, manufacturers' improved financial health, and dealerships' increased profitability. And yet, buyers often scoff at current multiples and are unwilling to reach for a higher blue sky number, even if the expected return on an acquisition far surpasses any alternative investment.
Many dealership buyers want a minimum 15% return on their capital investment, sometimes even higher. One might consider this an irrationally high return expectation in the current market. I believe these return expectations are a vestige of the past – of a time when the Fed Funds Rate was 5%, not zero, and when there were in fact attractive alternative investment opportunities that produced a 15% return without a high level of risk. That's not today. For buyers to convince sellers to part with their relatively safe dealership cash flow, buyers are going to have to increase prices and likely reduce return expectations.
In my article, "You're not a floor plan lender, you're a car dealer" June 2012 issue of Dealer magazine, I note that many dealers reinvest their excess cash flow into their vehicle inventory by paying down floor plan. Dealers often make this investment decision because they are more comfortable investing in themselves than in the capital markets. The question dealers should ask themselves is: If I am willing to floor my own inventory for a 2% return, shouldn't I be willing to buy another dealership for an 8% return, a 400% improvement over my floor plan return? I think the answer is yes, particularly when you take into account that both investments are exposed to the same economic risk factors– it's just that one pays you for that risk.
Buyers, it's time to recalibrate your return expectations for dealership acquisitions. When the next acquisition opportunity comes along, consider your investment alternatives. You won't likely find a higher returning investment than a dealership, particularly on a risk adjusted basis. So sharpen your pencil and be rational with your pricing. I can assure you the seller will be.