Buy/sell activity in the first half of 2014 rose 75%, with private acquirers once again leading the industry. The strength of auto retail sales, particularly in the luxury segment, continues to support strong buy/sell activity and high blue sky prices. Below are the four notable trends I saw in the second quarter.
1. High Demand Markets Create Big Blue Sky Premiums:
Buyers are willing to pay steep premiums to acquire franchises in certain high demand markets. States with the highest sales per dealership are often in the greatest demand (see Chart 1). Arizona, California, Florida, Texas, Colorado, and Nevada are amongst the most sought after markets, according to our database. By contrast, the Midwestern states are the least sought after markets, due to slower population growth and sales seasonality.

For certain franchises, location can have a meaningful impact on franchise value. Domestic blue sky values are most affected by location and market, as Chart 2 demonstrates. For example, domestic franchises in high demand markets can achieve the same blue sky values as Honda or Toyota franchises in the same market.
2. An Increase in Large Transactions is Expected in the Near Term, Questionable in the Long Term:
In addition to the increase in the number of multi-dealership acquisitions (Chart 3) and the announcement of the Lithia/DCH transaction, I'm aware of a number of sizable acquisitions which are in process and likely to be announced in the second half of 2014. Many large private groups, public companies, and private equity firms are eager to buy sizable groups. More of these groups are becoming available due to the ageing of the dealer body and today's high blue sky values.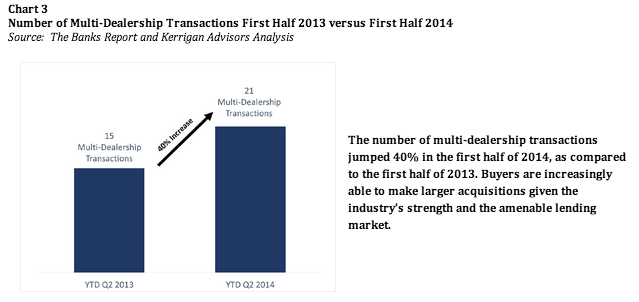 4. Many Indicators Point to Blue Sky Pricing Approaching Peak Levels:
The SAAR topped 17 million units in August, the highest level since July 2006, and total sales are up 5% for the year. Auto sales growth far exceeded many analyst's expectations coming out of the recession. Unfortunately, many of these same analysts are now predicting slower auto sales growth for a number of reasons including: (i) the expected rise in interest rates, (ii) negative auto equity as a result of extended loan terms, (iii) student loan debt limiting car purchases; and (iv) improvements in car quality/longevity.
A Morgan Stanley industry report recently noted, "The U.S. auto cycle has clearly moved from a 'need to buy,' to an 'I just want to buy' type of consumer mindset. There is a dark side to all this." I believe this dark side will put pressure on future dealership blue sky values. The timing of a sales decline could coincide directly with an increase in sellers coming to market due to age, putting further pressure on blue sky prices.
Our firm believes that the closer we get to a 17 million sales year, the closer we come to peak blue sky values. Dealers in their late 60s and 70s will not likely witness a better selling environment in their lifetime. One thing is for certain: the trends in this article will change and a buyer's market will eventually set in. When it comes to the value of your business, timing is everything.