Presidio recently published its end of year M&A report, which is available at www.presidioautomotive.com and on Dealer magazine's web site. In it we discuss the current blue sky multiples, as well as the following dealership acquisition trends:
The Big 5 is now the Big 10. The Big 5 franchises (Toyota, Honda, BMW, Mercedes-Benz and Lexus) are still in the highest demand with leading buyers. However, these buyers are now also interested in Audi, Chevy, Ford, Hyundai and Nissan franchises.
Leading buyers are active. Our conversations with leading dealer groups indicate they are highly interested in purchasing dealerships today, both because they expect continued strong new car sales growth and they have increasing access to capital at attractive rates.
Potential supply/demand imbalance in dealerships for sale. Despite strong demand, many potential sellers appear to be waiting for another year or two to enter the market, perhaps to allow more time for their earnings to increase. This may or may not be a good strategy. If many sellers enter the market all at once, multiples could fall and some transactions will not get done as buyers' time and capital are limited.
Valuations are strong. At present, we are seeing sellers with high quality assets getting strong offers. Many buyers see upside in the future and are willing to pay for it.
In addition to these trends, our report highlights that new vehicle sales per dealership are expected to reach record levels in 2012, as shown in Chart 1. This increase is due in part to the significant decline in the number of dealerships over the last four years. As a result, new vehicle sales per dealership are projected to reach 785 in 2012, a 39% increase over 2009 (a 170% larger increase than the total increase in new vehicle sales for the industry during the same period).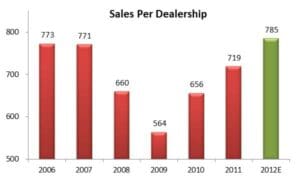 Taking this analysis a step further, we looked at new vehicle sales per franchise and discovered a high correlation with Presidio's published blue sky multiples.  As you can see on Chart 2 and Chart 3, the more new vehicles sold per franchise, the higher the blue sky multiple for that franchise.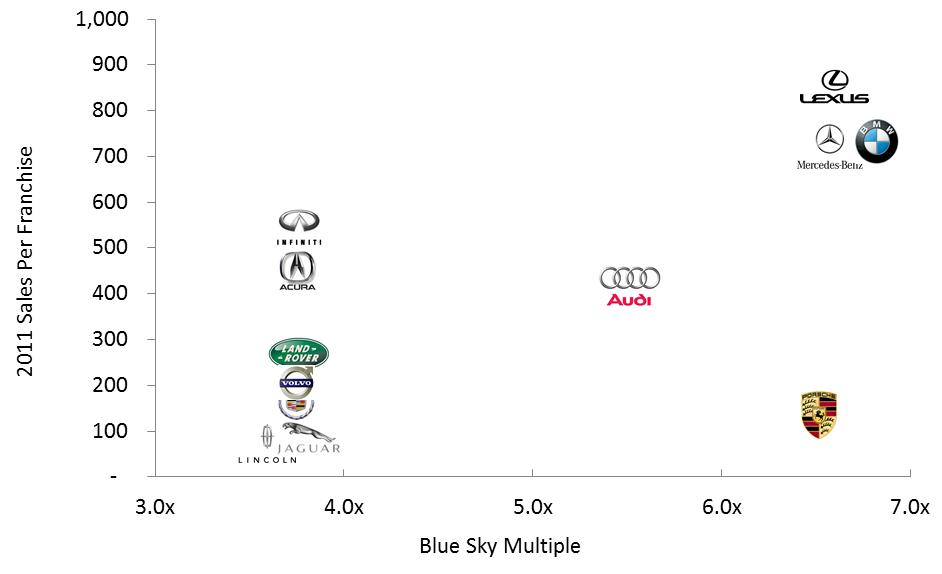 These charts demonstrate the importance of franchise count relative to new car sales in driving franchise value (Porsche appears to be an outlier due to the fact that while its sales volume is low per franchise, its gross per new vehicle sold is amongst the highest in the industry).
When manufacturers over-dealer their franchise networks, new vehicle sales per franchise decline as does the value of the franchise. Toyota executives figured this out early on when they set up their dealership network. They have always shown great discipline when adding new points and believe in maintaining a highly profitable dealership network. As a result, even with all of the challenges Toyota faced over the last three years, both their franchises (Toyota and Lexus) remain at the top of their respective markets in terms of sales per franchise. It is not surprising that they have been able to sustain their strong blue sky multiples.
The importance of new vehicle sales to the dealership business model
As we all know, most dealerships do not make their money in the new car department. In fact, since 2005 the new car department for the average dealer lost money according to NADA. So, it is perplexing to see that new vehicle sales per franchise are such a strong indicator of franchise value. Why is this? The answer is actually quite simple – new vehicle sales are the foundation for the entire dealership business model. As new vehicle sales increase, so to do higher margin service and used car sales. The specific benefits of more new vehicles sales per franchise are as follows:
Increased service sales: More new vehicles sales mean more units in operation to service. The average service department's gross profit margin is more than 10 times greater than the average new car department's gross profit margin (47% versus 4.5% according to NADA) and service profits usually represent the largest portion of a dealership's total profits. Also, the more new vehicles sold in a dealership, the more internal service business generated both in preparing the new cars for sale and reconditioning the trade-in for sale.
Excellent source of used car inventory: Trade-ins tend to be a more profitable source for used car inventory, particularly certified pre-owned vehicles. The more new vehicles sold, the more trade-ins provided for the used vehicle department to sell at a 12%+ gross margins, more than double the average new car gross margin (Source: NADA).
Better management and staff: Dealerships with higher new vehicle sales volumes tend to be more profitable and ultimately attract better management and staff, who can often expect higher wages and ultimately provide better customer service.
In summary, a manufacturer's franchise count and its corresponding sales per franchise are key indicators of franchise value. More sales per franchise usually equals more profit per franchise and more capital available for dealership investment, which often leads to better dealership marketing, management, facilities and customer satisfaction. When sales per franchise grow, it's a win/win for both manufacturer and dealer. Hopefully, the up-and-coming manufacturers who joined the Big 10 remember this lesson as they plan their growth. Bigger is not better when it comes to a franchise network.